Available Fosters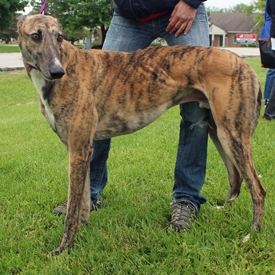 Arriving 5/20/2017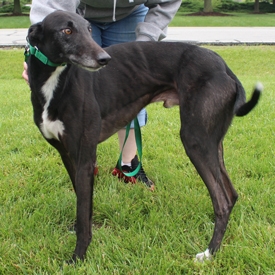 Arriving 5/20/2017

5/26/2017 Garb is visiting for the holiday weekend. He is a very happy and friendly boy. His tail is always wagging, and he is a joy to have around.

He is doing great on hardwood floors and is getting along so well with his foster brothers and sisters. He has a stunning shiny black coat and a beautiful face with the sweetest eyes.

Garb is not good around pet birds, but would make an amazing companion for someone without cats or other small creatures in the house.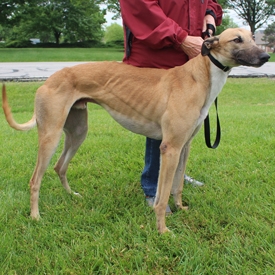 Arriving 5/20/2017

5/28/2017: Gordon is a handsome, happy boy who loves to greet everyone with a helicopter tail. When he sees something of interest his ears stand straight up with tips crossed. He gets along well with our 2 other greys and sleeps through the night on a dog bed in our bedroom with our 2 hounds. Gordon enjoys going for walks and does well on lead. Rope toys provide entertainment and he enjoys peanut butter, yogurt, strawberries, watermelon and any dog treat. He negotiates steps and tile floors well and sleeps through thunderstorms. This boy is a delight and could be a wonderful addition to your home.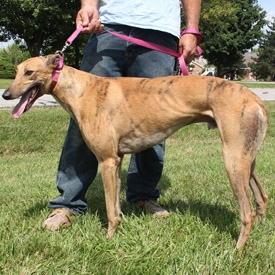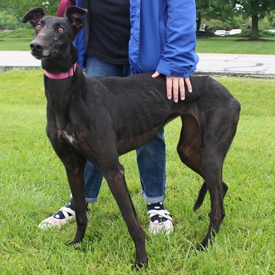 Arriving 5/20/2017

5/24/2017: Hobson is a very sweet 4 year old smaller girl. She is calm, but loves her food. So it's important to watch to make sure she doesn't try to eat anyone else's food. Did I mention she loves food?

She is good on hardwood floors and stairs. She walks great on a leash. She is very loving and comes over to be petted, but isn't in your face to get attention.

She is learning so much from her foster brothers and sister. She has a beautiful black shiny coat and beautiful eyes. She sleeps on a dog bed and doesn't try to get on furniture, but if invited she would probably be happy to be on the sofa with her new family.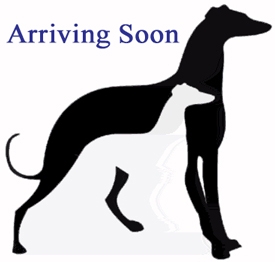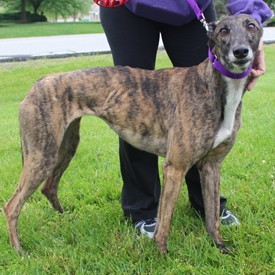 Arriving 5/20/2017

5/24/2017: Joyce is settling in well to family life in a home! She loves other dogs, including small dogs, she is very laid back and not nervous at all. She loves all food- and was an expert counter surfer upon arrival, but within 2 days she has learned the word "no" and is very obedient! Joyce is very smart, loves to be with people and part of the family. She has had only 1 accident in the house and that was the day we picked her up- none since. She sleeps well in her crate at night and when we are away.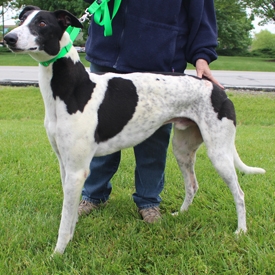 Arriving 5/20/2017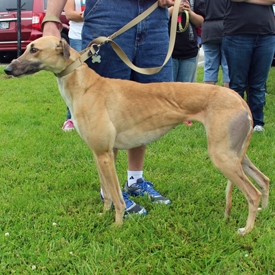 Arriving 5/20/2017 Successful racer and Alves favorite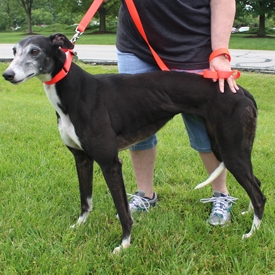 Arriving 5/20/2017 Gorgeous tuxedo dog, black and white.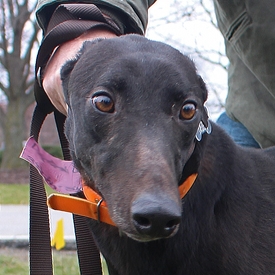 3/25/2017: Rico-- Is a handsome, laid back black male. He weighs in around 75 pounds. Rico can walk on all types of floors with no problems and Rico has mastered the stairs. Rico gets along great with our 3 greyhounds. Rico has been around our 2 cats and shows some interest.

5/2/2017: Rico has really settled into retirement. He is the most calm, laid back, boy that we have ever fostered. He has a shiny glossy black coat with a white patch on his lower chest. He loves to run with the other dogs, plays with toys, and love to lay in the baby pool. "Could I be the dog you want?" I say yes!!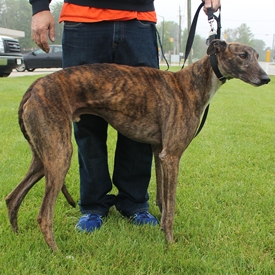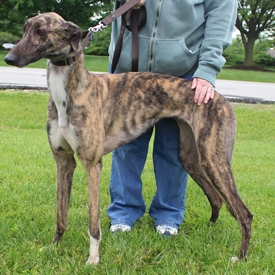 Arriving 5/20/2017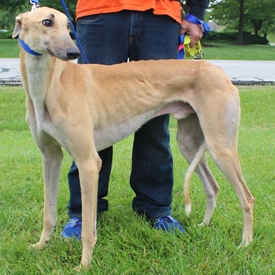 Arriving 5/20/2017